SGP's Hospitality Innovation Forum (HIF) 2021 - Register now! WIN prizes and earn CSNM points!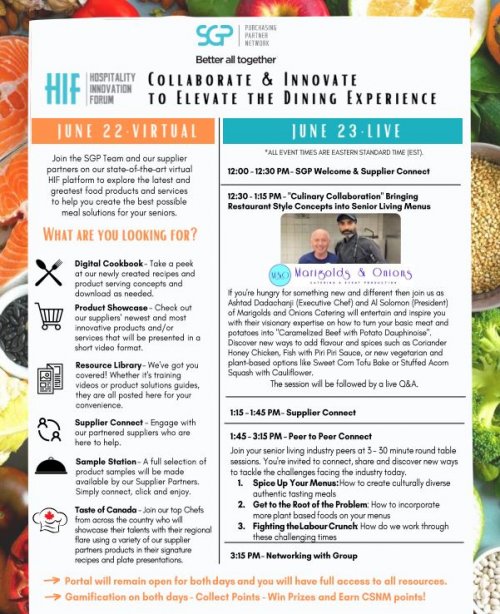 Tweet
Please join the SGP team and our supplier & distribution partners on our state-of-the-art virtual Hospitality Innovation Forum (HIF) 2021 platform to explore latest and greatest products and services to help you elevate the dining experience!
June 22 - VIRTUAL & EXPLORE AT YOUR OWN PACE DAY
June 23 - LIVE VIRTUAL EVENT from 12:00 pm - 4:00 pm
Digital Cookbook - take a peek at our newly created recipes and concepts!
Video Product Showcase - check out newest and most innovative products, services and ideas!
Resource Library - we've got you covered! Whether it's training videos or product solution guides, or educational materials, they will all be posted here for your convenience.
Supplier Connect - Engage with our partnered suppliers who are here to help.
Sample Station - selection of product samples will be made available by our supplier partners! Simply connect, click, and enjoy!
Taste of Canada - join our top Chefs from across the country who will showcase their talents with their regional flare using a variety of our approved products in their signature recipes and plate presentations.
Collect Points & Win Prizes
Collaborate & Innovate with your friends & peers
Earn CSNM points
TO REGISTER OPEN THE ATTACHMENT