With such an array of products, services and expertise, the right solution is always close at hand.
With the breadth and depth of products, services and knowledge available through the Purchasing Partners Network, members can be confident that they are always receiving the best quality and value. Everything, from menu innovation and educational resources to clinical equipment and recreational programs, is available through the network without delay. It's the kind of single source availability and best in class quality of which the right solutions are made.
SGP network suppliers offer a long list of solutions.
As part of the Purchasing Partner Network, members and suppliers work directly together. Ordering and invoicing is direct. There are no minimum orders and pricing is guaranteed for the duration of a contract. Input/feedback operates in a continuous loop. And all suppliers have the SGP stamp of approval for quality and reliability.
Products and services available through the Purchasing Partner Network includes:
Administration
All of the business and administrative support and supplies needed to run an efficient operation.
A sample of available products:
Office Supplies
Photocopier & Fax Equipment
Cell Phones & Pagers**
Electronic Products**
Mailing Equipment
Signage & Display Products
Artwork**
Mirrors
Clinical
Everything needed for comprehensive senior medical care. All product recommendations are tested and proven for quality while delivering great value.
A sample of available products:
General Nursing Supplies
Patient Charting Systems
Healthcare Chairs
Skin Care Products
Incontinence Products
Respiratory Services
Resident Mobility Equipment
Wound Care/Advanced Wound Care Supplies
Food Service
Mealtime is a central focus in any senior's community. That's why you can count on Food Service Contracts available through the SGP Purchasing Partner Network.
A sample of available products:
Produce
Grocery
Canned & Dry Goods
Bread
Meat (beef, pork, poultry, fish, etc.)
Milk, Juice, Coffee & Tea
Nutritional Supplements
Smallwares & China
Housekeeping and Laundry
A Housekeeping / Laundry contract through the SGP Purchasing Partner Network delivers environmentally safe, proven products used at more than 80 Extendicare homes across Canada.
A sample of available products:
Paper Supplies
Garbage Bags
Linen Supplies
Linen Carts
Laundry & Warewashing Chemicals
Laundry & Warewashing Supplies
Recreation and Therapy
Through the SGP Purchasing Partner Network, clients can access the best in recreation and therapy programs that deliver enjoyment and improved mobility and health to your residents. From general therapy to specific programs, each contract element is professionally designed by our team of nurses and physiotherapists and tested at Extendicare homes.
A sample of available products:
Living Aids
Rehabilitation
Maintenance
Each element of our maintenance program is developed and tested by our team of mechanical engineers for the best in operation and value. And like all of our recommendations, each component is tested and proven in the more than 80 Extendicare homes across Canada.
A sample of available products:
Lighting Supplies
Hardwares
Grease Trap Chemicals
Pest Control
Capital/Furniture, Fixtures and Equipment
All products available through the SGP Purchasing Partner Network are first tried and tested in Extendicare homes. That way, you can be confident you are purchasing the best for your residents.
A sample of available products:
Furniture – Lounge, Dining, Bedroom
Commercial Equipment
Ice Machines
Beds & Mattresses
Lifts/Slings/ Tubs
Storage Shelving
Our dietitians and Red Seal Chef work to ensure SGP menus offer the best in taste and nutrition.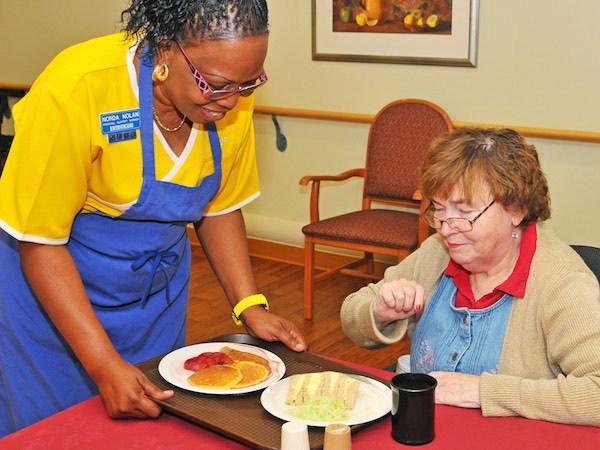 A core component to the SGP program is our menu system, which is designed by our dietitians specifically for the seniors market. And our Comprehensive Menu Package means all of your menus are designed and specified by a Red Seal Chef – one of the highest designations in Canada.
Menu items are chosen for their quality and value and all individual food items are tested in Extendicare homes and meet all regulatory requirements for freshness, health and nutrition.
Our proprietary menu system is based on a three-week rotation for Ontario and a five-week rotation for Western provinces. In both cases, the rotation is changed twice yearly. Included in the menu package are:
production sheets;
week-at-a-glance menus;
recipes; and
worksheets that provide portion size, texture, therapeutic modifications and recipe scaling for easy modification to suit specific needs.
SGP's regional Menu Innovation Days and Front Line Worker Workshops allow Food Service suppliers to share insight and new products with members. Members also have an opportunity to ask suppliers and SGP questions and also share their experiences and knowledge.
Education resources available through the Network help clients improve their services.
The SGP Education Days allows knowledge to be shared amoung all partners in the Network. They include a lineup of speaks who share their insight into a wide variety of topics. They also allow members to meet key partnering suppliers as well as the SGP team and Red Seal Chef.
As a member of SGP Purchasing Partner Network, you'll also have access to our Inservices presentations and quizzes on various health and caregiving topics.